Posted on January 14, 2014 by Guest Writer
Congratulations go to Cristiano Ronaldo who finished ahead of Lionel Messi for the first time in 5 years to win the prestigious Ballon d'Or award, it might be somewhat surprising that he overcame Messi on this occasion considering the records that were broken by the Argentian for Barcelona and because Ronaldo's team Real Madrid actually achieved nothing and won nothing, beaten to the title by Barcelona and the Copa del Rey by Atletico Madrid. Perhaps the biggest shock was that Franck ribery who actually picked up the domestic title and cup also ensured a clean sweep with victory in the Champions League.
Just as in the Eurovision song contest when countries vote for their near neighbours, friends and countries that they have a natural association with politically, by region or perhaps by language then this award has also become quite meaningless other than to the ego of the recipient who then announces himself as the worlds greatest player as a result.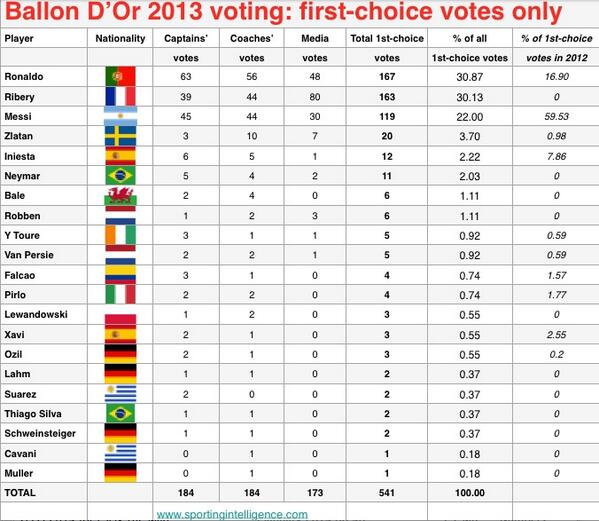 Take a look at some of the votes of individuals and all but a few have voted for their teammates, ex- teammates or countrymen not unlike the eurovision song contest where we have become used to Scandinavian countries voting for each other and Eastern European countries doing likewise while France and Germany cosy up as in the political sense. As usual England pick up NIL points although now that Gareth Bale has the PR machine of Real Madrid and the title of the worlds most expensive player in his favour he does at least appear at seventh with 6 first choice votes.
Is the voting now based upon income rather than footballing achievements? yes Ronaldo scored 66 goals in 56 games but Messi was equally as prolific and more importantly won the title in what is a league dominated by their two clubs. Surely for the sake of the integrity of the award on this occasion the recipient should have gone to a member of the all conquering Bayern Munich team who swept aside all before them domestically and in Europe.
For many this once prestigious award has possibly been demeaned by this result on this particular occasion, we know thatLionel Messi has won on the last four occasions as a result of the success of Barcelona and the sheer quality of their performance during a period when he was the beacon in the team described as the best on the planet, but Real Madrid have actually seriously underachieved and as Ronaldo is the star member of that group on this occasion many feel that they have got this one wrong.